Travel agencies and DMCs create lots of Tour Itinerary proposals for Tour package queries from B2B & B2C Clients. One of the most important aspects of the Tour Itinerary building process is tour cost calculation and defining the selling price of the Tour Itinerary proposal.
To calculate the tour costing, you need to check out the cost of Hotel Room (Extra bed price if needed), cost of meals, Transportation cost (Airport Transfers and Sightseeing cost) & Activities cost. You collect all these data in a paper or excel sheet to calculate the total cost and Also, you add your markup and GST to get the final Tour cost. Also, you need to do the same process again if you have received any change in itinerary from a customer.
If you need to calculate the per person costing then you need to get the cost of every service for every person involved in the Tour which requires more time and effort.
Let's take an example of Andaman Tour Query received from B2B agent: -
Requirements:
Tour: 6 days for Family of 4 Adults and 2 Children (12 Yrs, 8 Yrs) from 25th Dec 2022
Places to visit: Port Blair, Havelock and Neil Island
Hotel Preference: 4 Star Hotels on MAP Meal Plan
Special Preference: Scuba Diving, Luxury Ferries and Glass Boat Ride
General Tour Cost Calculation Process
So, You search for Hotel cost for every place according to the Tour date and Room Type, Transfers & Sightseeing cost for everyday, Cost of ferries and Activities. Sometimes you need to ask the cost of Hotels, Transportation and Others from managers OR colleagues.
You paste all the components costing into an excel sheet or paper and You loosely calculate the total cost of Tour.
You add your markup and GST on the total cost to get the Final tour costing.
If you need to provide the per person costing then you calculate the cost of every component for every person.
If a customer asks you for changes in Tour Itinerary (4-5 changes for every convertible query) then you need to do the same process again.
Facing issue of wrong price calculation?
Manual tour cost calculation (Loosely calculated tour cost) brings lots of problems for Travel Agencies and DMCs like wrong tour cost calculation, error in picking up the component price and NO trail OR record of cost calculation if required later by the reservations team. Also error in tour cost calculation brings revenue loss and sometimes hurt the goodwill of Travel Agency.
But Sembark Travel Software is here to help the Travel Agencies and DMCs to automate the Tour cost calculation which is error free and fast.
How does Sembark Travel Software Automate the Tour Cost Calculation Process ?
Auto Hotel Cost Calculation
Auto prices fetch from database for hotels as per room type, meal plan, extra bed requirement (Adult, Child) & Date and provides the Hotel cost by combining costs of all hotels

Auto Transport & Activity Cost Calculation
Auto prices fetch from database for Transport (as per cab type, type of service & Date) and Activity cost (as per day type of activity, Adult/Child/ Group and Date) & Auto Calculate the total cost of Transports and Activities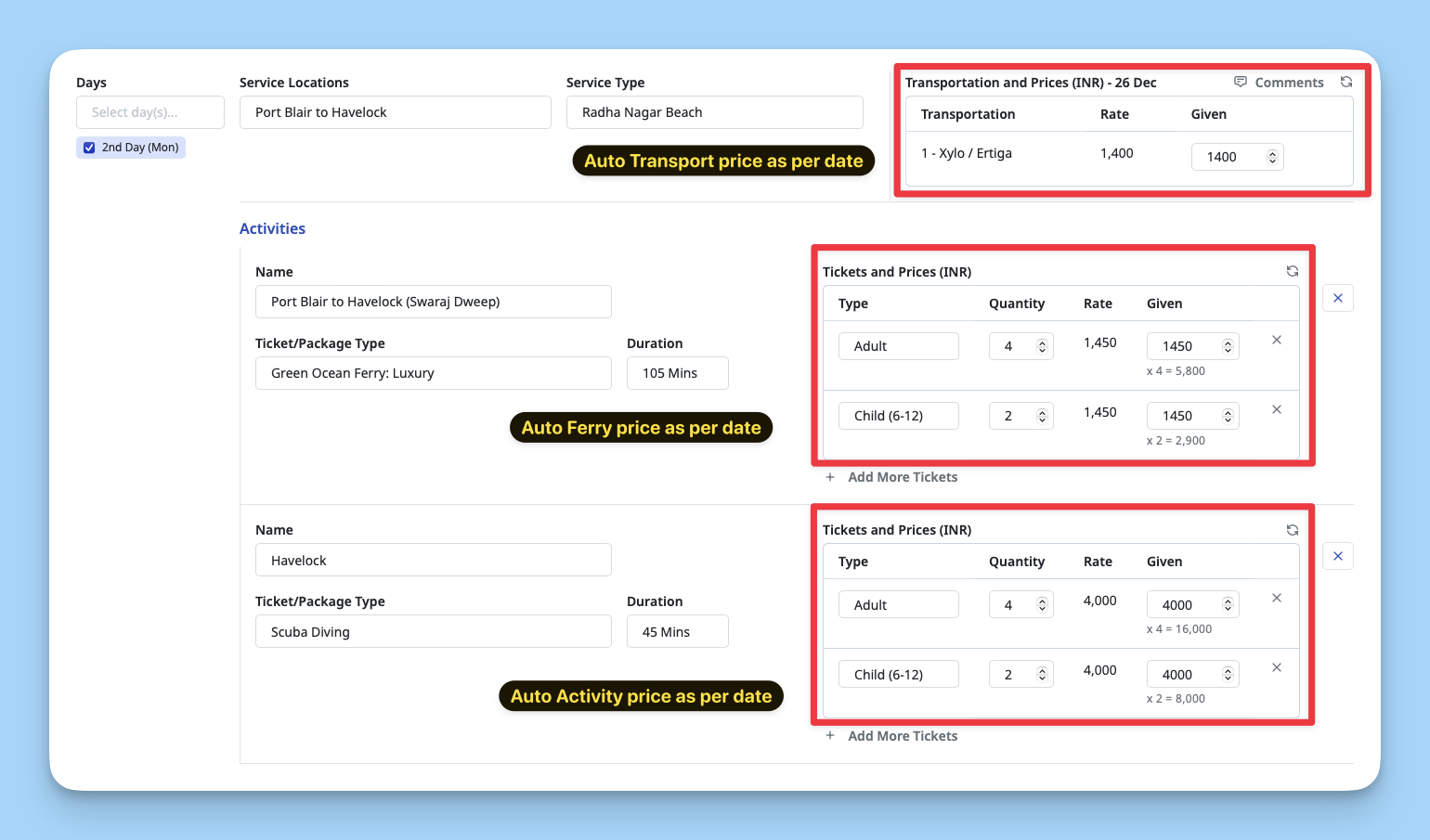 Auto Per person price
Automatically calculate the per person cost (Adult and Child separately) as per the Hotels, Transports and Activities of every person involved in the Tour

Markup & GST
Define markup in % OR absolute markup OR per person wise markup and GST & Get the Total Tour Cost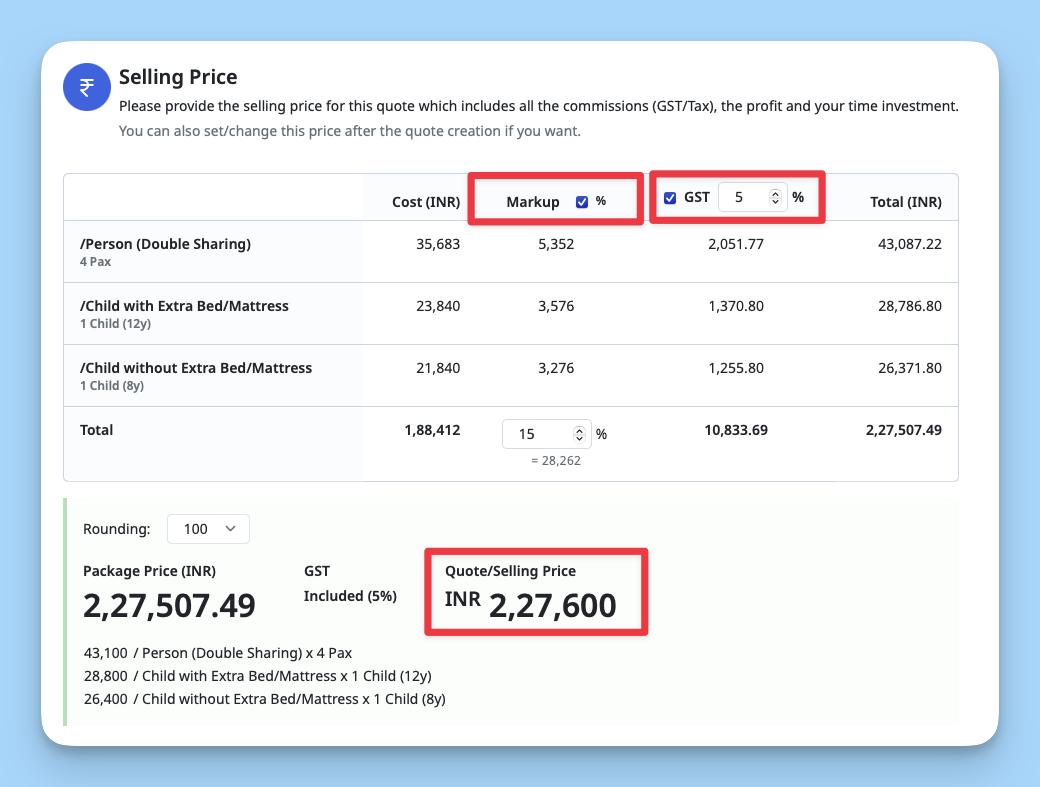 Do you want to know more about Sembark Travel Software ? We are ready to answer all the questions and explain how it can help you to Transform your travel business.