Travel Agencies and DMCs get a lot of queries for Tour packages for domestic and international tours. When They get a query from a B2B/B2C Client, they have to build personalised Tour Itinerary quotations, typically of multiple days covering multiple destinations.
To build a Tour Itinerary, you need to put together multiple travel services (Hotels, Transfers, Activities, Sightseeing & Meals) and detailed day wise Itinerary with proper Tour costing. The longer the trip duration, The more time & effort you need to give to create a detailed Tour Itinerary quotation.
Let's take an example of a Andaman Tour Query received from your B2B Agent: -
Requirements
Tour: 6 days for Family of 4 Adults and 2 Children (12 Yrs,8 Yrs)
Places to visit: Port Blair, Havelock and Neil Island
Hotel Preference: 4 Star Hotels on MAP Meal Plan
Special Preference: Scuba Diving, Luxury Ferries and Glass Boat Ride
Based on all these details you need to build a Tour Itinerary quotation & Share them over Email/WhatsApp.
General Itinerary building process:
So, firstly you search for matching Tour Itinerary from your directory & Copy Matching Itinerary to word doc OR email composer.
Also, you select the relevant hotels with room types & per night cost, Sightseeing & Transfers cost (Transportation Cost) and Paste all these data in the spreadsheet/excel for Tour costing calculation (Sometimes error in calculation as well).
Later you prepare the Email/WhatsApp reply by adding all the relevant info of Hotel Names with room type & meal plan, Sightseeing, Detailed day wise itinerary, Inclusions, Exclusions and T&C.
Finally you share the details to B2B Agent through WhatsApp/Email and this process takes 30-40 Minutes and sometimes more.
If B2B Agent asks you for the changes in the Tour Itinerary (As they often do), So you need to repeat the whole process again & Share updated details with B2B Agent. Nowadays, Clients look for instant reply on queries and delayed responses cause loss of bookings.
Building a Tour itineraries takes a long time…Right?
Tour Operators & DMCs usually got conversion of 15-20 % queries. Also Tour Operators who generate leads via Google Ads and Social Media have only conversion of 5-7% queries**.** Avg. 4-5 customisation required on queries that are converted. So even customization in Tour Itinerary consumes time not only Initial Tour Itinerary quotation.
So If you are building tour itineraries in a manual way then : -
Consuming too much time in initial Tour Itinerary Quotation and for further customisation as well so it is leading to lower conversion % on queries. Also your are having money loss due to errors in Tour costing due to over burdened employees Lower conversion % leads to revenue loss .Your Travel Agency will be having very little growth with same team due to overburdening & lower conversions % and Revenue is capped to a limit. High cost of operations as you need to have bigger team for handling more queries.
But now you are in 2022 and Our Sembark Travel Software for the travel industry is here to help you to speed up the Tour Itinerary Building process with automatic tour costing to Improve conversions % and Increase in Revenue.
How does Sembark's Intelligent Tour Itinerary Builder make life easier for Tour Operators & DMCs?

Here is the complete Sembark Travel Software's Tour Itinerary builder process : -
1. Get a New Query

Add all the information required to create a trip quotation and itinerary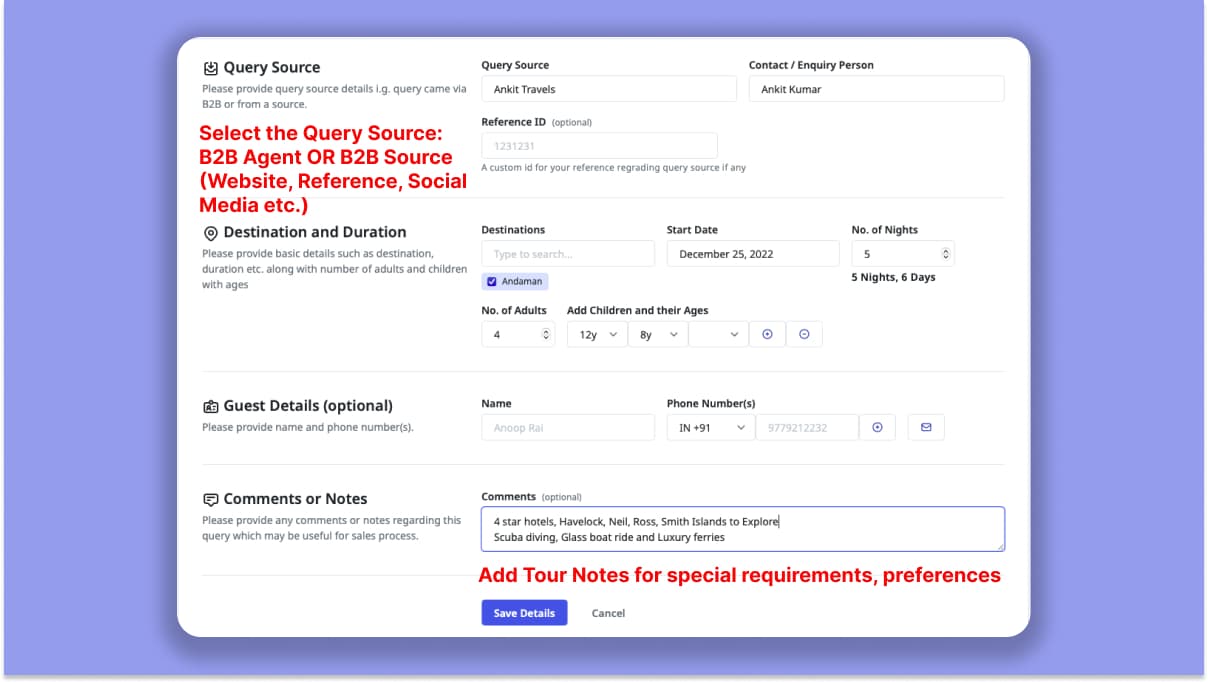 Leads Integration
Your can forward leads from your landing pages, Google Ads, Social media Ads and, from B2B agents sub user login directly into Sembark Dashboard.
2. Matching Tour Itinerary suggestions

Suggestions based on No of Days, No of Person and Hotel Category, Customise as required and Share with customer seamlessly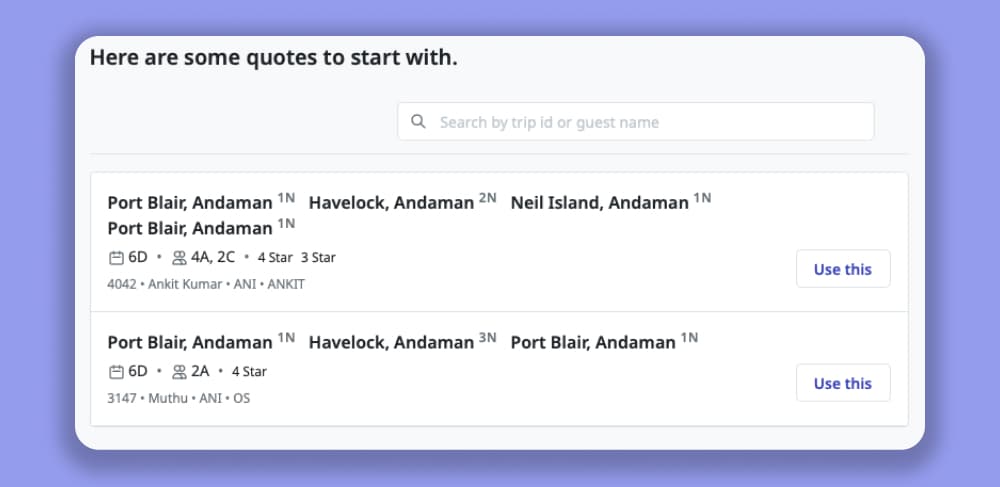 3. Add Multiple Travel Services with Automatic Costing from your Directory

Select Hotel, Transportation, Activities, Sightseeing with Automatic costing to Build Tour Itinerary within a Minute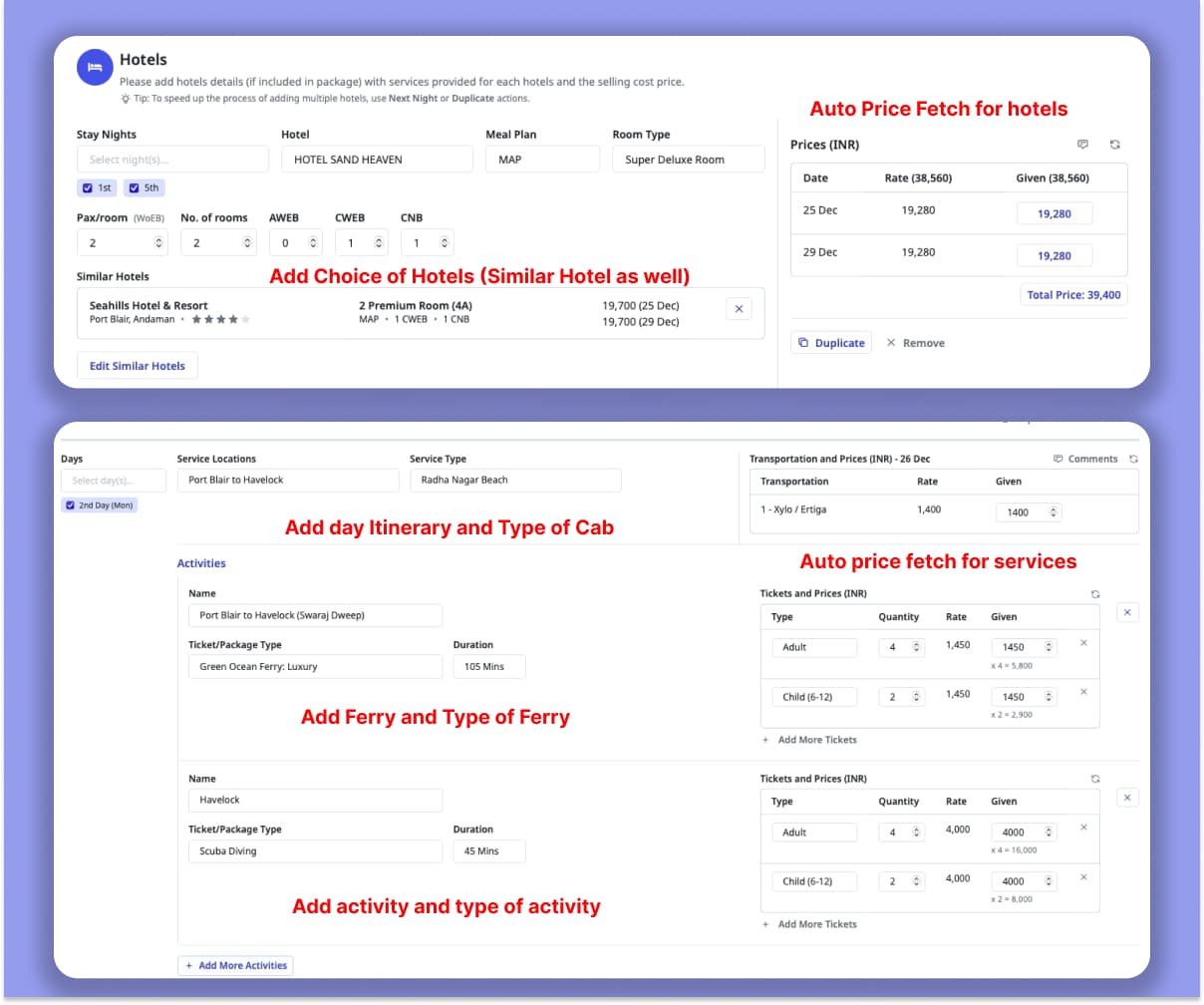 4. Tour Costing & Markup

Software Automatically fetch Travel services costing from directory, Automatic per person costing with defined markup and taxes allows you to eliminate error, Improve accuracy and make costing easy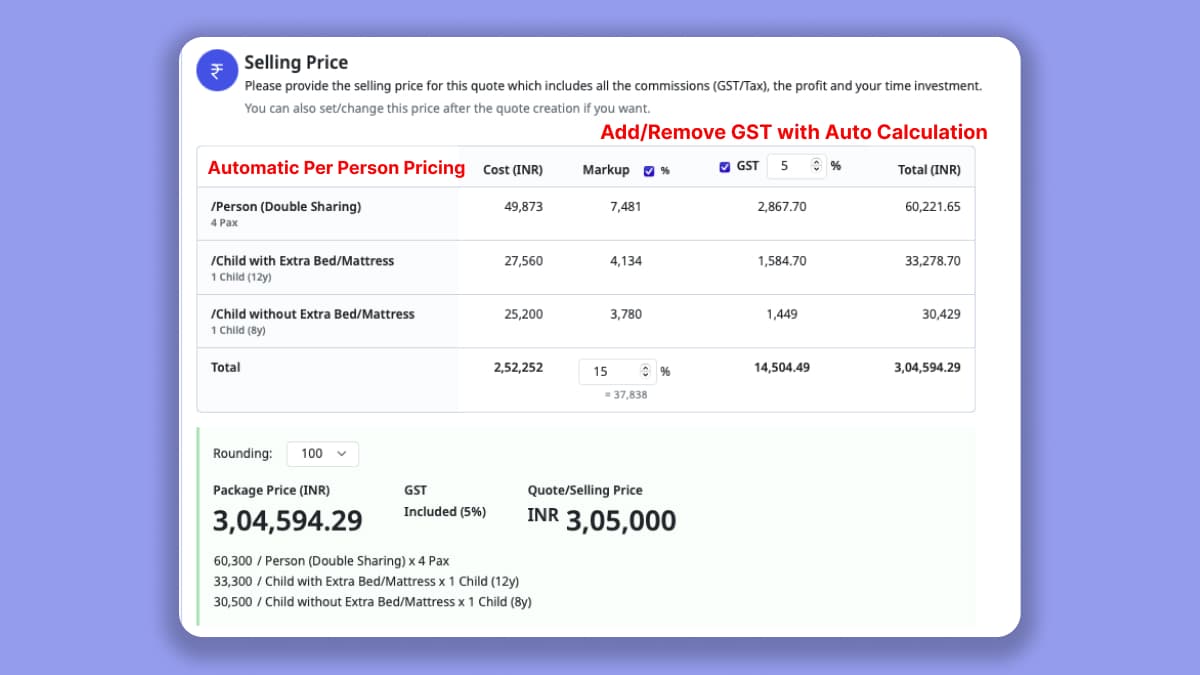 5. Detailed Itinerary with Inclusion, Exclusions and T&C

Software will automatically fetch the detailed Itinerary with Inclusion, Exclusion and T&C according to Hotels, Transportation, Activities & Sightseeing provided which eliminates the manual copy pasting of all these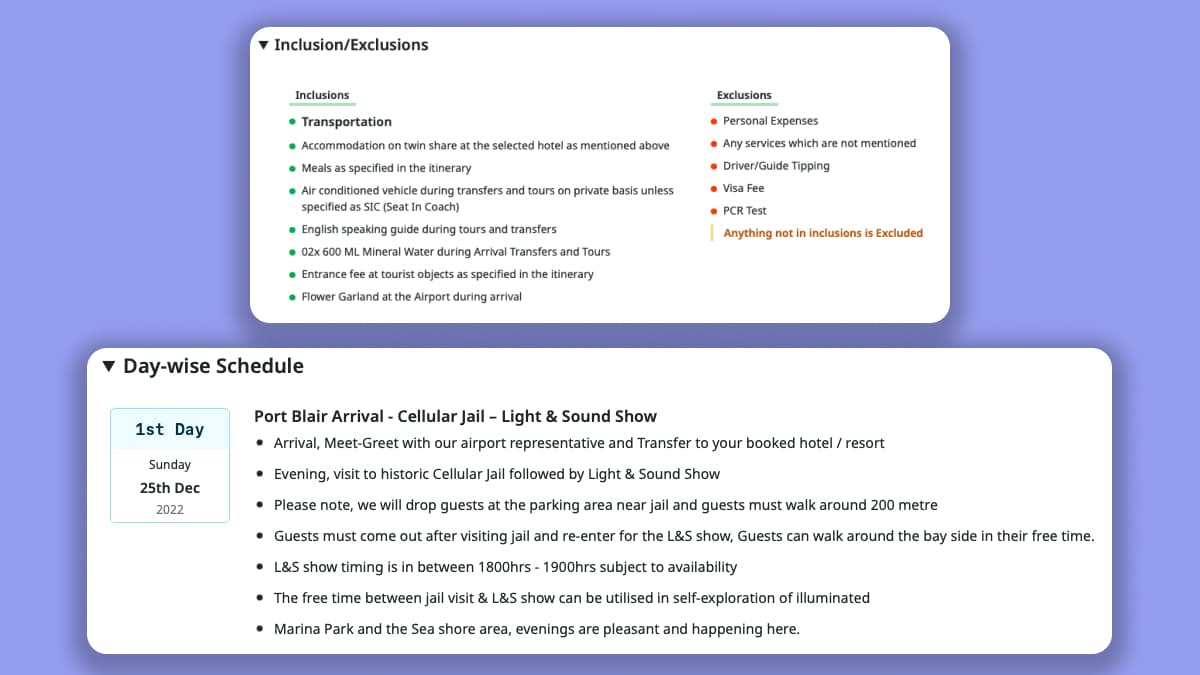 6. Share with customer in a click through WhatsApp and Email

Automated customised Email and WhatsApp content creation for each tour quotation and share with a click to customer to save extra time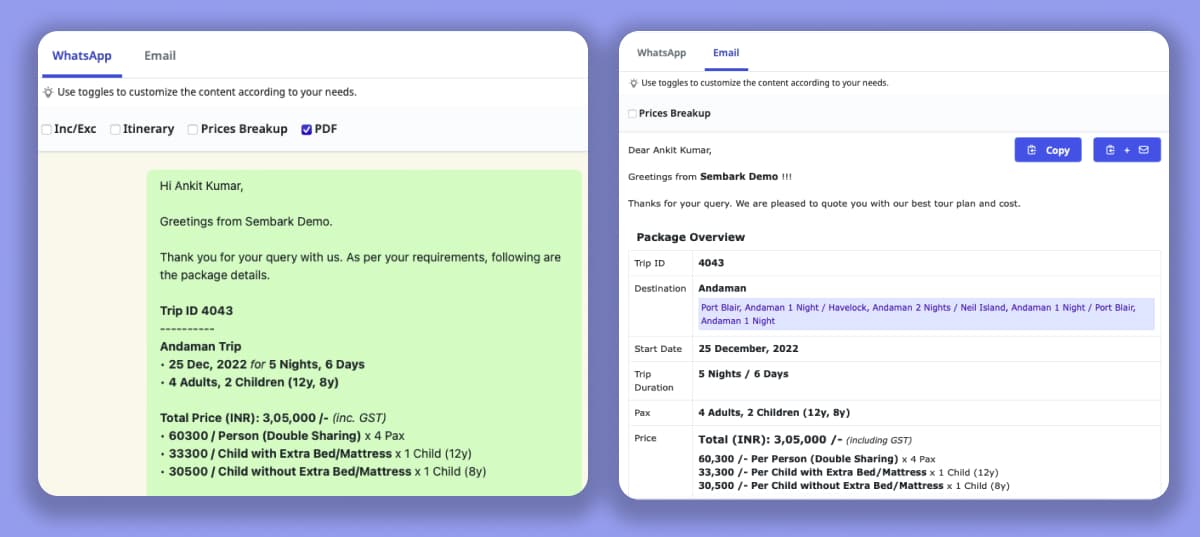 7. Professional Itinerary PDF

Clear view of all the details Trip Start Date, Duration, No of Travellers, Hotel with Category and No of Rooms, Transportation Type, Visual day by day itinerary with photos, T&C and Booking Policy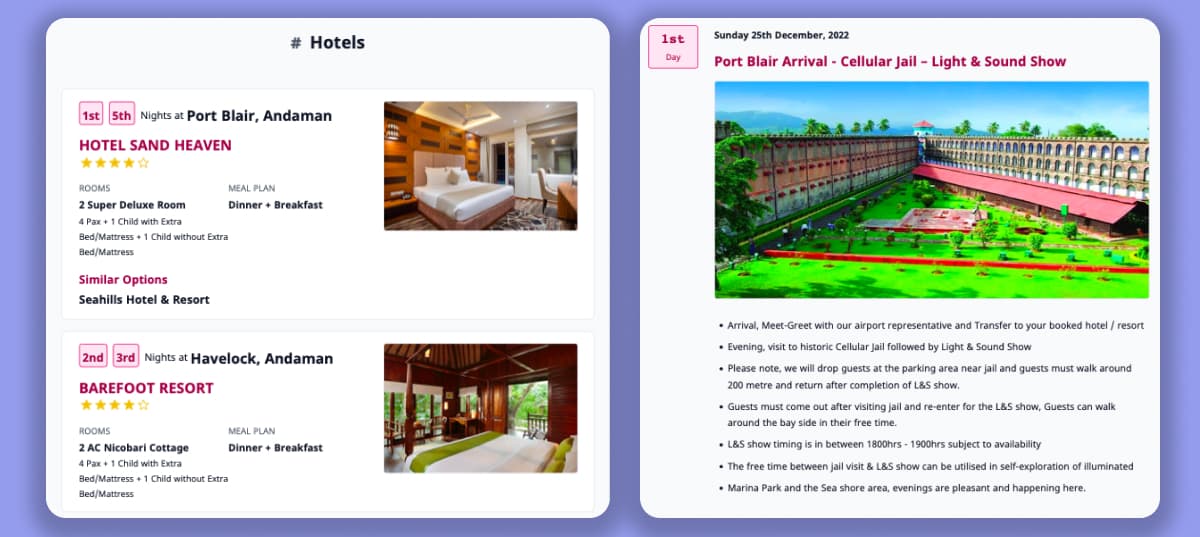 It's a productivity and efficiency booster
Do you want to know more about Sembark's Tour Quotation and Itinerary builder? We are ready to answer all the questions and explain how it can help you to Transform your travel business.