Manage and Grow

Your Travel Agency
Grow your company with quick quotation and follow-up reminders, ease of reservations with scheduling calendars and accountings with expense management.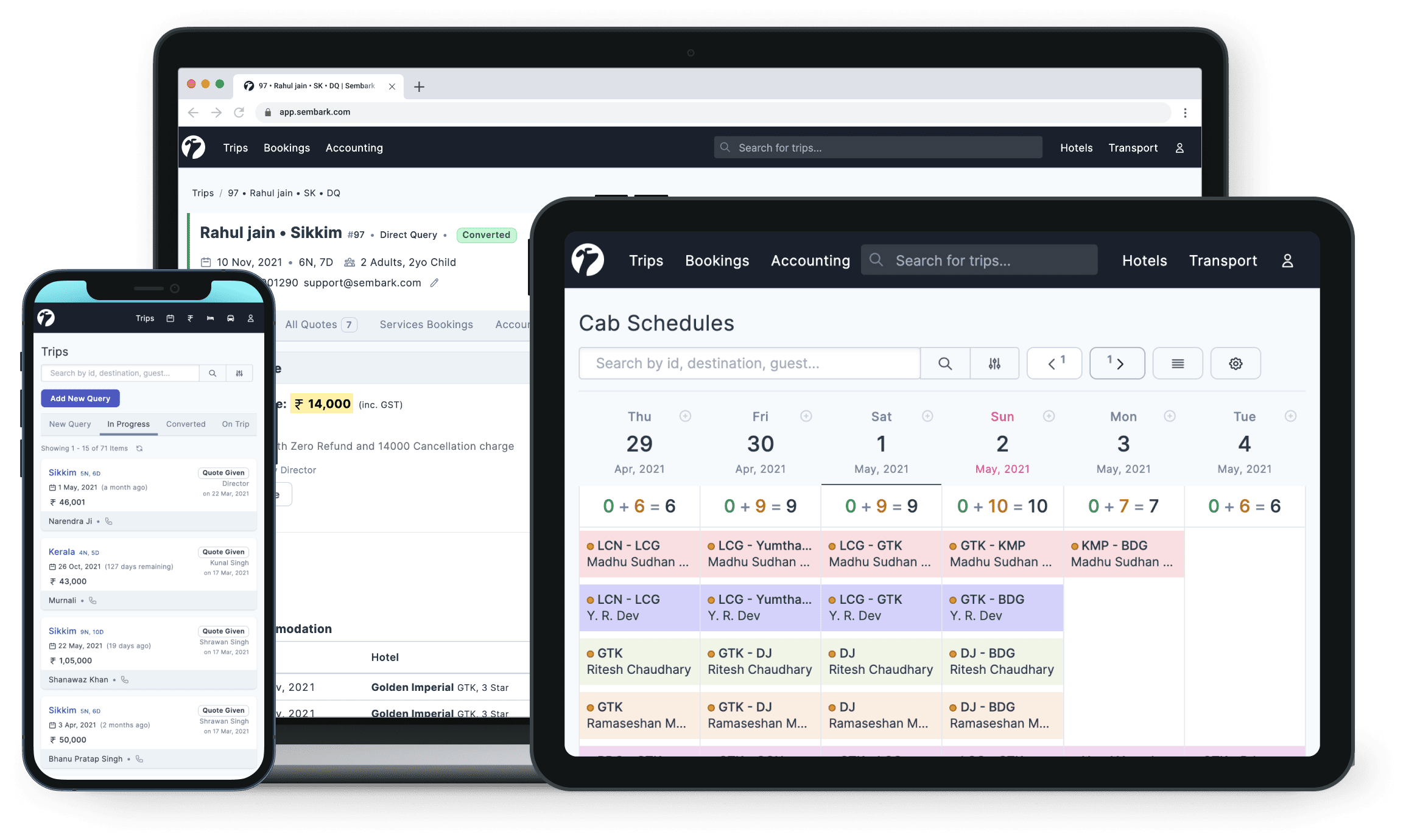 Fast and Managed Sales
Best place to grow your Sales with little effort
We have simplified and fasten the lead management so that your teams can focus more on conversion and spend less on quote creation, conversation and follow-ups.
Built for Tour Operators
Powerful and Easy-to-use Reservation System
Accounting made Easy
Simplified and Connected Accounting Process
We offers full-fledged accounting solution which handles all the mundane tasks like debit-credit entry, trip specific accounting, dynamic account statements, supplier accounts, reconciliation, transaction / payment history and cash handling.
Simply clear instalments for trips, hotels, and cabs booking and we take care of accounting statements for your customers and suppliers.

Ledger at your Finger tips

With built-in double entry system of accounting, all your virtual accounts and their statements are available at your fingertips.

Expense Management made Easy

Use our solution to log your office expenses and investements to track every transaction accross your organisation.
Why Sembark
India's only software for Tour Operators and Destination Management Company
Out solutions are built by Intelligent Travel Industry minds so we have a solid understanding of all business pain points.

Fastest-improving platform

We release hundreds of features and improvements each year to help you stay ahead of industry shifts.

Intelligent Optimizations

We regularly analyze customer feedbacks and thousands of data points to make our system more intelligent in increasing conversion, revenue recovery, and more.
Setup Fee
Charged once during onboarding*. Monthly subscription applies afterwards.
Users
Fee (INR) - excluding GST
0-5
25,000
6-15
40,000
16-25
50,000
25+

Custom Package

(min 60,000)
*Note: Once onboarded, any further onboarding support is charged extra.
Monthly Subscription Charges
Billed on every month-start of usage.
Monthly Users
Fee* (INR) - excluding GST
0-10
1200

/user

11-25
1100

/user

25+
900

/user
*Note: There is a minimum monthly charge according to commited number of users.
Frequently asked questions
Do I need to install any new Software

No, Sembark is browser-based so you only need an internet connection and a browser. You can use PC, Mac or even on your mobile phone to use Sembark.
How to start using Sembark

Our onboarding process is easy and intuitive. It takes only 7 days to implement in your whole company. Basic documentation process takes 2 days after that We give free training to your staff.
What is team strength behind this software

Sembark is founded by IIT Kanpur and NIT Kurukshetra Alumni in February 2019 to provide State of the Art Tech Solution to Travel Industry. We have developed best in class solutions to grow revenue and profit to new heights for Travel Stakeholders.
What type of support is available

A dedicated support team is available to answer any of your queries. We take support requests on high priority so you don't have to wait anytime. In addition, our highly trained support staff will make periodic site visits, at no cost to you.
Who can use Sembark Software

We have made a gold standard software for Tour Operators, Destination Management Company and Travel Agencies.
Will my data be safe and backed up in Sembark

Absolutely. Our database is secure and is backed upon regular basis.
Book your FREE demo Today.
Learn everything Sembark Travel Agency Software has to offer.
Get up and running with Sembark in as little as 10 minutes.