This release includes significant improvements in Transportation, Tickets and Activities modules of Sembark Travel Software. Pickup/Start time of Transports Services is now part of the upload process to ease the Tour Operation. Tour Package and Voucher sharing have been updated to include timings of Transports and Activities for your International needs. You can now easily add Multi-Day activities and tickets during quote creation.
Let's dive into this update.
---
Transport Services

This update includes improvements in default settings for Pickup/Start Time and Duration for Transport Services to ease the Tour Operations.
Pickup-Start Time

For most of the Transport Services, Operations team have approximations of Pickup and/or Drop Times. Existing Software required update of Pickup/Start Time for every new booking. With this update, you can now set a Start Time for Transport Services and The Software will auto populate the Pickup and Drop Time of Cab Schedules after Trip Conversion.

Column Rename
Please note that the `Time(mins)` column in Transport Services sheet has been renamed to `Duration(mins)` to better align with usage. You **MUST** update your sheets before uploading.
Trip voucher has been updated to show the Pickup and Drop timings of Transport Services when applicable. This drastically reduces the Tour Operations efforts and improves communication with Customers.

Drop Time or Duration

Along with Pickup/Start time of Transport Services, you can now provide a Duration of the Cab Schedules. The Software will auto-populate the duration for Cab Schedules if a default duration is available for the provided Transport Service.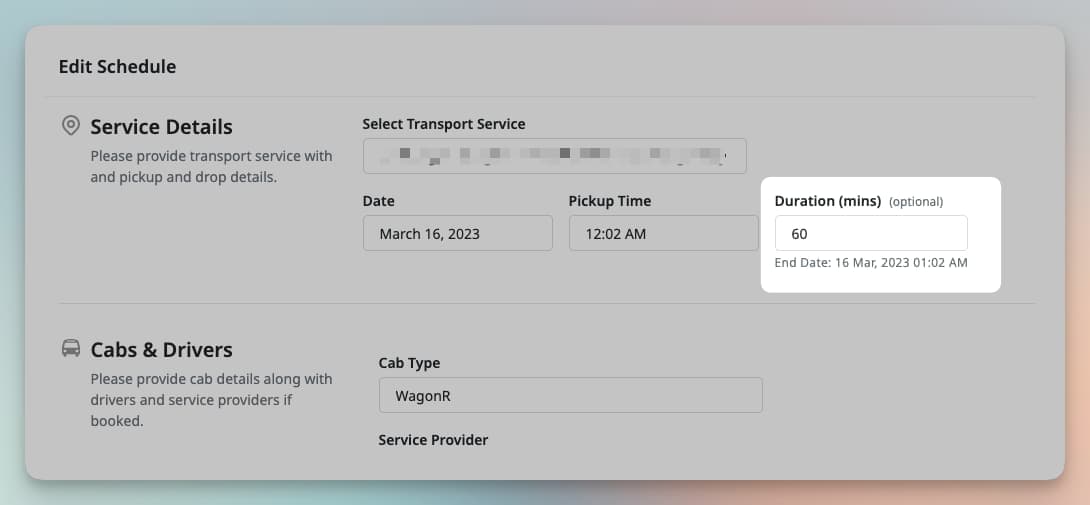 Remove Itinerary

You can now remove full Itinerary from Package Sharing Email and Trip Vouchers by simply selecting the Remove Full Itinerary toggle option.

Travel Activities

Enabled per Request Basis

This feature is only available per request basis. Please contact our support for more details.
Multi-Day Services

With this release, you can now attach Travel Activities/Tickets, without associating it with Transport Services. Adding Multi-Day services such as Guide charges, Water bottles etc. with auto price calculation is as easy as selecting the desired service and lettting the Software do the rest. All these services are now included in the Trip Vouchers to ease the communication.

Slot Timings

You can now select a slot of Travel Activities/Tickets during quote creation to better align the services. This slot will be shared in vouchers to ease the Tour Operation.
Voucher Sharing

Tour Activities are now included in Trip Vouchers. The voucher will include day-wise activities along with their Timings and Slots.
Enhancements
Updated Quote PDF's Hotel section to include Check-in dates

Improved WhatsApp message for sharing Quote's Hotel's Check-in details

Show Number of Nights (along with Days) in Quote PDF

Move Total Price below Per-Person Prices in Quote Sharing (PDF, WhatsApp, Email)

Move Edit Quote button near the Quote Sharing option, previously labeled as Create New Quote using these Services
Bug Fixes

The following issues have been fixed.
Logout page keeps refreshing
Auto inclusion of Transportation section in Inclusion/Exclusion section
Page Crashes during Quote creation/editing
Alignment issues in Live Trips listing page