This update includes improvements in your sales reports, providing salesperson wise, destination wise and trip source wise reports with revenue and profits. These new reports will help you in taking decisions for your team, travel destination and lead sources.
Let's dive in.
Salesperson Reports

Now Team Admins can check the performance of their team members with a simple and easy-to-use reporting module. This report includes the performance metrics such as total conversion, assigned leads and profit with percentage. The leads and conversion metrics are linked (clickable) to full listing of queries to cross verify the data.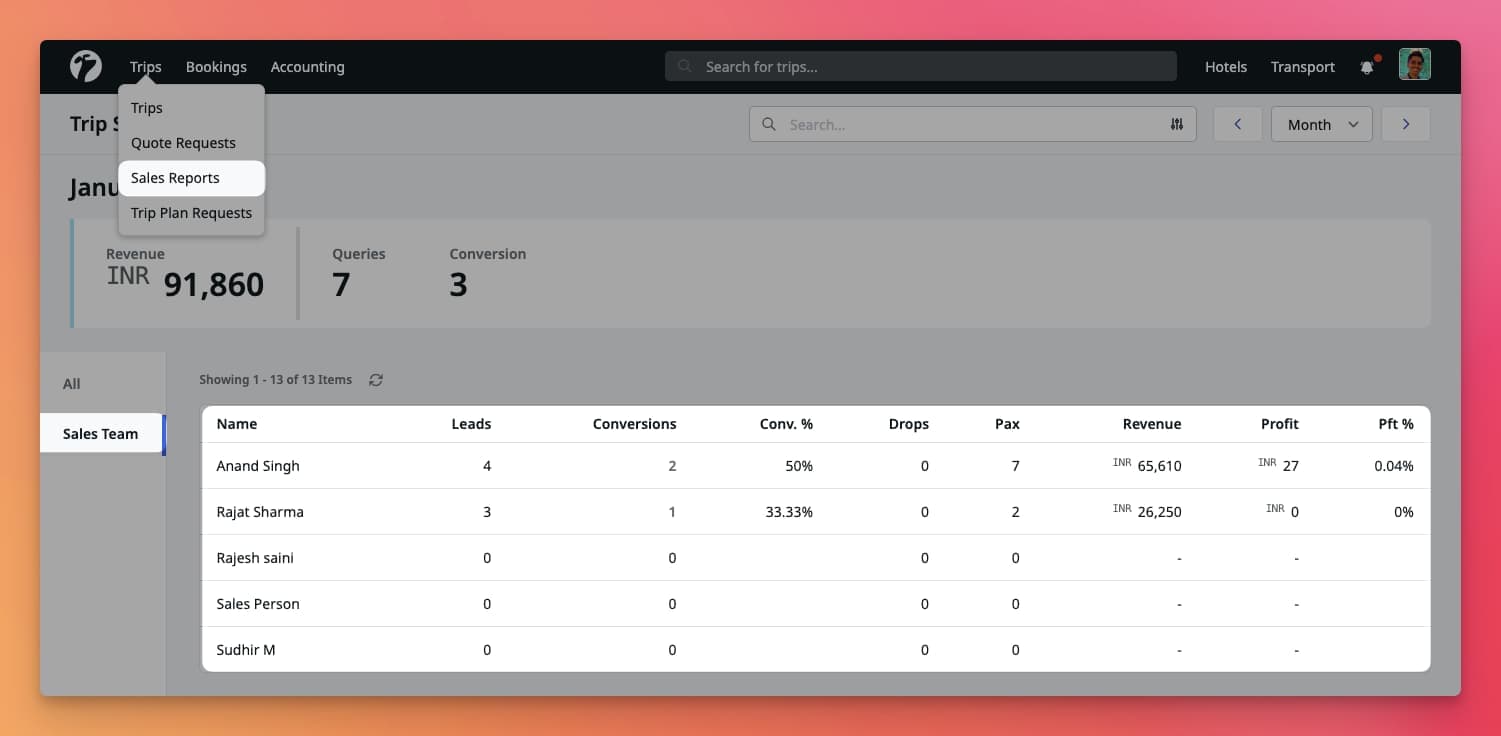 As earlier, once you are one the salesperson report, you can further filter by Trip Destination(s) and Trip Source(s) to meet your exact analysis needs.
Profit Calculations
Here are the formulas used for profit calculation in salesperson reports:
Not Dropped: Using Quote (P1 = selling price - tax - cost price)
Dropped in the same month: Using Bookings (P2 = receivable - tax - payable)
Dropped in following month(s): Using Bookings and Quote (P2 - P2 = (receivable - tax - payable) - (price - tax - cost price))
Destinations Sales Reports

Team Admins can now monitor and analyse sales based on Trip Destinations. These reports' view provides a signal view of stats including total leads, conversion and profits which provides an overview of every destination sale. As earlier, you can further filter these reports based on salesperson and trip sources, along with a daily, weekly and monthly reports. These stats will help teams target particular trip destinations for new sales and other aspects.
Trip-Sources Sales Reports

Along with salesperson and destination-based reports, Team Admins can also monitor and analyse sales based on Trip Sources. These reports' view provides a signal view of stats including total leads, conversion and profits which provides performance overview of every Trip Source. Furthermore, you can filter these stats by destinations and salespersons to drill-down the reports. Teams can analyse these stats to improve B2B relation and target particular sources for future marketing purposes.
Debit-Credit Accounts on Paid Instalments

Debit and Credit Accounts, which were selected during payments logging, will now be visible in Trip's Payments page to easily scan the details of logged instalments. Admin and Accounts team can also click on Account Names and checkout the full account's page.

Salesperson Contact Numbers

Admins can now associate contact numbers with salespersons which will be shared in Quote PDF's (B2C) footer section for customers to directly contact the concerned salesperson. By default, the Quote PDF's usage the Contact Address details from the organization profile for contact details in footer section.

To attach phone numbers, Admins can visit the Organizations > Users and modify the user's details to associate the contact details.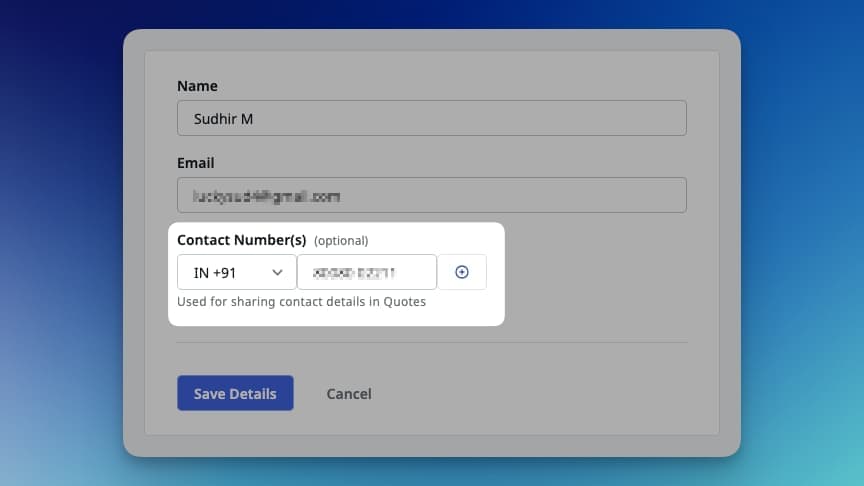 Quote Hotel's Price Birfucation

You can now view a hotel's given prices bifurcation (per-room, extra beds etc) in a tooltip when taking cursor over the prices, instead of going into the edit quote flow.