Sembark provides solutions to easily manage your company accounting. From day to day payments to monthly clearance, it has all covered. Easily create different accounts like expense, assets, liabilities, revenue etc. to handle all your accounting and transactions. You can verify all the accounting activities with your bank statement to keep everything in check and verified.

Accounts

You can manage all your accounts e.g. expense, liabilities, company etc. at one place.

Company Accounts

You can create accounts owned by your company to manage all your company debits and credits. Company tab will contain accounts attached to your company which you can do at the time of account creation.
Account Types

Account types allows you to group your accounts based on its type. You can assign account type(s) to an account at the time of creation. All your account types will become tabs on the left side of accounts page.

Tags

You can use tags as the secondary level of information you want to attach to an account e.g. assign "Duties and Taxes" to some "Liabilities" accounts that holds duties and taxes transactions.
Payment and Instalments

To easily view and manage future/past incoming and outgoing payments, Sembark uses the concept of Instalments. Instalments gets automatically created for your incoming (client, guest etc.) and outgoing (bookings, flights etc.) payments at the time of booking only.

Once created, instalments can be easily transformed into accounting transactions when making payments. This allows you to see all your accountings and transactions at one place and keep records of all what went to where.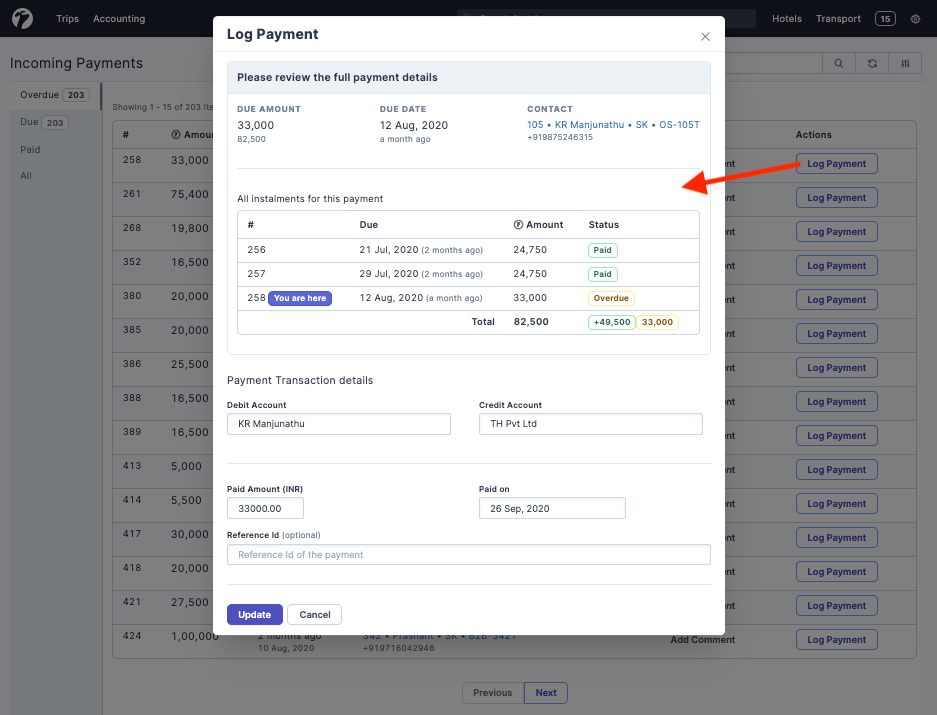 Accounting Transactions

Any payments entry between two accounts will be listed on transactions page where you can view all the details and perform actions like update transaction accounts, revert etc.
Bank Statement

You can verify and create accounting transactions by uploading your company's bank statements. This allows you to manage all your bank account statements in one consolidated view. These statements will be linked to accounting transactions which provides a complete picture of each statements entry.
Suspense Entries

To easily manage bank statements that needs more time for verification, you can use the Suspense account to upload these statement. You can later verify and update these entries to correctly map to your desired accounts.